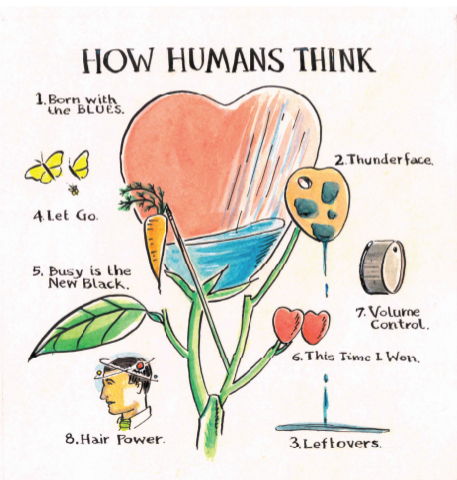 How Humans Think CD (Includes digital download)
SKU 00013
Product Details
The newest offering from The Julie Lamb Outfit - an 8 track album with the usual beautiful artwork by Debe Mansfield. Ships with lyric pack and artwork.
"...that ass-kicking brassy funk they're known for, and do so well, is still front and centre... a wonderful mix of thoughtful ballads and irrepressible dance tunes offering wry observations on life." Claire Symonds Freelance Journalist

''The first thing I noticed ...was the outstanding amount of work and love which has gone into the packaging of the CD.

...an original compilation of well written lyrics and tight production. A clean cohesive, yet rich sound radiates forth with masses of warmth. This is an album with a touch of sass and a sunny disposition." Corinne R. Muzic.net.nz
The Julie Lamb Outfit came together like any old outfit. You start with which thunderpants to wear, add a colour scheme and style – remain aware of the need to look a bit put together – but not so much so that you go missing a cheeky hint of non-conformity. Cover it all up with a coat and scarf of warm comforting talent and camaraderie - and off you head into the big wide multiverse.
The warm comforting talent on this album is:
Julie Lamb – Band Mum, storyteller, vocals, writer, organiser... legend.
Shan Jordan – Angel voice, brilliant pianist, writer, chocolate maker, cartoon creator, fan of dad jokes.
Giacomo Caleffi – The drummer, fab ideas, Italianate flourishes. Nemesis of cucumber, lover of pizza.
Chris Fursdon – Brilliant, writer of bass riffs that sit just right. Chord knowledge level 100. We call him Dr.
Kali Barton – Trombone tone wonder, idea generator, wonder ears woman, smiley stage angel.
Amity Alton-Lee – Saxophones, clarinet, generous, kind, awesome soloist, horn line magician.
Eoin Williams – Guitarman, riff master, green faced traveller, Uncle O, Yoin. Magic Tone Man.
Miranda Turner – Warm velvet voice, funny, funky, fabulous. Singing backing vocals.
Lisa Tagaloa - Loving, caring touchstone. Co-writer vocal harmonies. Keeping Shan in line on tour...
In session:
Phill Adams - Percussion in between engineering and drums on tracks 1,2 and 5.
Simon Blackwell - Also percussion between engineering.
All songs written by The Julie Lamb Outfit, except 1,4 and 6 penned by Shan Jordan.

All arrangements are by The Julie Lamb Outfit
Engineering, mastering and production: Matrix Digital - Phill Adams and Simon Blackwell
Original and fabulous artwork: Deb Mansfield. Digital design wondrousness: John McDonald.
Form, design and printing: Julie Lamb and Aaron Waddington (Supercolour )
So incredible to have worked with this bunch of bad ass collaborators, to watch the ideas and arrangements embroider their way into fruition on this album.
Thanks as always to Jacqui Southwell, Lockie Stewart, Anu Rintavuori, Claire Symonds & Mac Haira.
Thanks to Eoin, Lisa and Amity for sharing the journey for so long, and to John O'Connor, Andrew Clouston and Miranda Turner for stepping into their breeches.
How Humans Think, an album by us, for you! October 2020

Save this product for later